Does it have to be a compliment? Is a simple "Hello" enough? Guest author Christiane Mieth would like fewer pick-up lines and instead more attention and real interest when addressing them
I've heard a lot about trying to flirt. There were totally flat slogans like "I lost my number, can I have yours?" or "Your smile shines brighter than the stars". When I hear something like that, I'm too annoyed to go into it in any way. But even the more creative attempts ("You look like Alice from Wonderland", or "You are really the smartest woman I've ever talked to") did not exactly meet with great enthusiasm, especially while dating online. Most of the time I was addressed with a simple "How are you?", But what should I answer in big terms? Such an address always seemed to me too posed and forced. It's the classic question par excellence: What do I say when I see someone I like?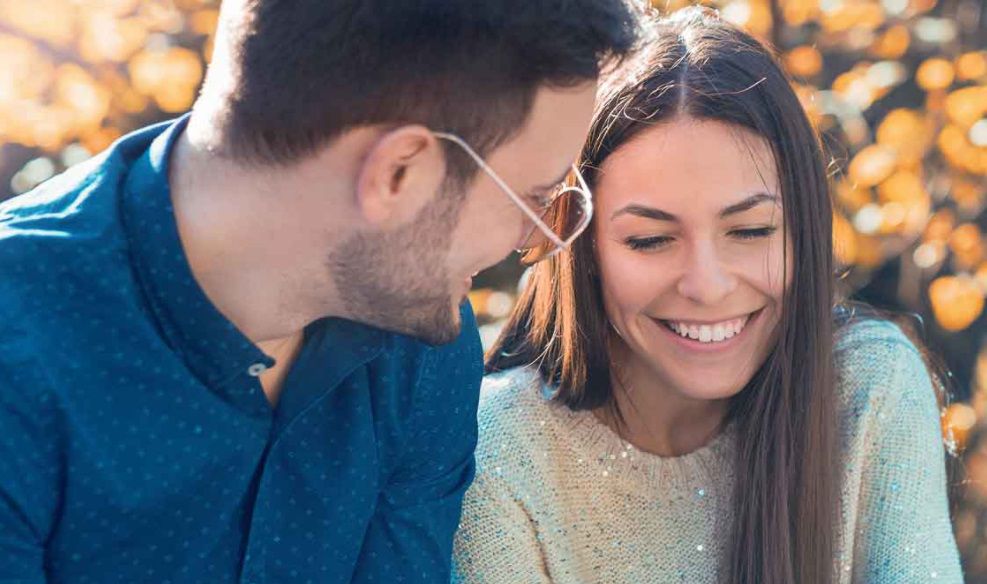 "Hello" is better than nothing
Despite the little successful sayings, I give the boys high credit for their attempts. Because even worse than bad sayings are no attempted responses! A friend of mine met a man on the train every day for a while who she liked but was too shy to speak to. Until he found her on Facebook at some point - however he managed it. He hadn't dared to speak to her directly either. You can do it, but it's easier and doesn't always work that way. Of course you can adore your crush in the train and plead to God in heaven that he speaks to you. But when he gets out, it's over. Bye Bye.
A second later it is forgotten again!
Basically you have nothing to lose. Before, when something embarrassing happened to me, I felt incredibly stupid and thought everyone was staring at me and shaking their heads. But my mother always said, "Child, people take a look and most of them don't even think about it. They register it, but a second later they have already forgotten. " That sounded so logical to me that I still use it as a mantra in embarrassing situations. Who cares when you get a rebuff? In the worst case, the other person smiles mildly, gets out and the next moment his thoughts are elsewhere. Well, then it didn't work. But you tick that off and get on with your life. The world is not going to end, and at least you can't blame yourself for not having tried. In the best case, he thinks the action is good and you start a conversation. You meet, have wonderful sex, get married and have children 🙂
Joking aside, you can only have a relationship if you find a partner. And to do this, you have to talk to potential candidates. In my experience, it takes less effort to speak to a stranger with every attempt. It's a matter of practice! Of course, not every conversation resulted in a date, but at least there was always a chance. And no conversation at all leads to no date, does it?
I always liked when a man said something appropriate to the situation. Once I was walking home from the supermarket and a guy spoke to me: "Hey, I'm new around here. Can you tell me where the nearest supermarket is You come from there, right? " Totally harmless. I explained the way to him and he was able to engage me directly in a conversation with further questions about the district. Did he do well, the boy!
In the train, in a café or waiting room, you can also quite easily refer to what the other is doing. For example, I read my neighbour's newspaper on the bus. When he noticed, he asked if I wanted the newspaper page. That way I was able to talk to him very well. This also works if the other has a piece of sports equipment or an instrument or something similar. With my guitar in tow, I've been approached quite often and asked where I have been playing, for how long, what kind of music ...
Attention is the key!
These positive experiences have shown me that the other is paying attention and paying attention to what I am doing. Unlike the bad sayings at the beginning, it shows interest and I don't feel like I'm the hundredth woman who has been addressed in this way. Instead, I feel special, and that's what it's about, isn't it ?! You want to stand out from the crowd for the other person and be something special. Striking compliments such as "You have great hair!" Might be a good fit if you met at the hairdresser's, but otherwise they seem like something out of thin air. But an attentive gesture is always nice: When a mean Coke bottle rebelled against me, a man offered me a handkerchief and cheered me up. In that moment it was exactly what I needed. If you manage to respond to the other and show empathy, you have broken the ice in most cases.